Private Alpaca Experiences are something a little bit special. Perfect for the animal enthusiast, grown up Birthday Party, Hen Do or anyone considering owning alpacas of their own, this is a private, exclusive and tailored visit to our farm to walk alpacas, just for your group. These can be booked on weekday afternoons throughout the year so get in touch to arrange a date (not available to book online due to limited availability - There may be very limited availability at weekends as our Alpaca Walks run most Saturdays and Sundays)
Perfect for family/friend groups and children over the age of 10* you will learn a little about how to handle our lovely alpacas following "Camelidynamic" principles and what it takes to look after them. James and Jo love to share all that they have learnt over recent years looking after their lovely alpacas and each and every one has a name and a character. Once haltered, you will take your alpaca for a guided walk around the farm walking track (all flat), looking out for badger setts, hares and muntjac deer. Take as many pictures as you like and try not to fall in love with these endearing creatures!
When the alpacas are walked and back in their paddock we will take you to meet the other farm residents: the alpaca mums and any babies (cria), our rare breed sheep, pygmy goats, ducks, rabbit and guinea pigs. Then you'll be ready for a cuppa and slice (or two) of homemade cake (included) (please advise of dietary requirements when booking)
As this is a private visit we are happy to adapt the walk to the needs of your group. However, alpacas are slow and gentle walkers, never in a hurry, and always on the lookout!
A Private Alpaca Experience lasts around 2 hours depending on how much you want to know/see/do. We never rush you and you are welcome to wander around the farm afterwards. If the weather is nice you can bring a picnic - if you have room after our homemade cake or we can recommend 4 local pubs, The Royal Oak in Aston Abbotts (Tel 01296 681262) The Rose and Crown in Wingrave , The Unicorn in Cublington or The Bell at Hardwick
Visits are subject to booking and weather conditions. Although we can walk in any weather it's much more pleasant when it's not raining or excessively windy (and if it's windy at home it's twice as windy at the farm!). If the weather forecast is bad for the day of your experience we will happily rearrange it for you and will offer you the next available slot (which may be some weeks ahead!)
Private Alpaca Experiences aren't available to book online as we have limited slots available so email Jo with some dates you have in mind and we will see what we can do!
However, if buying as a gift, you can purchase a Gift Voucher, which can be redeemed once a date has been agreed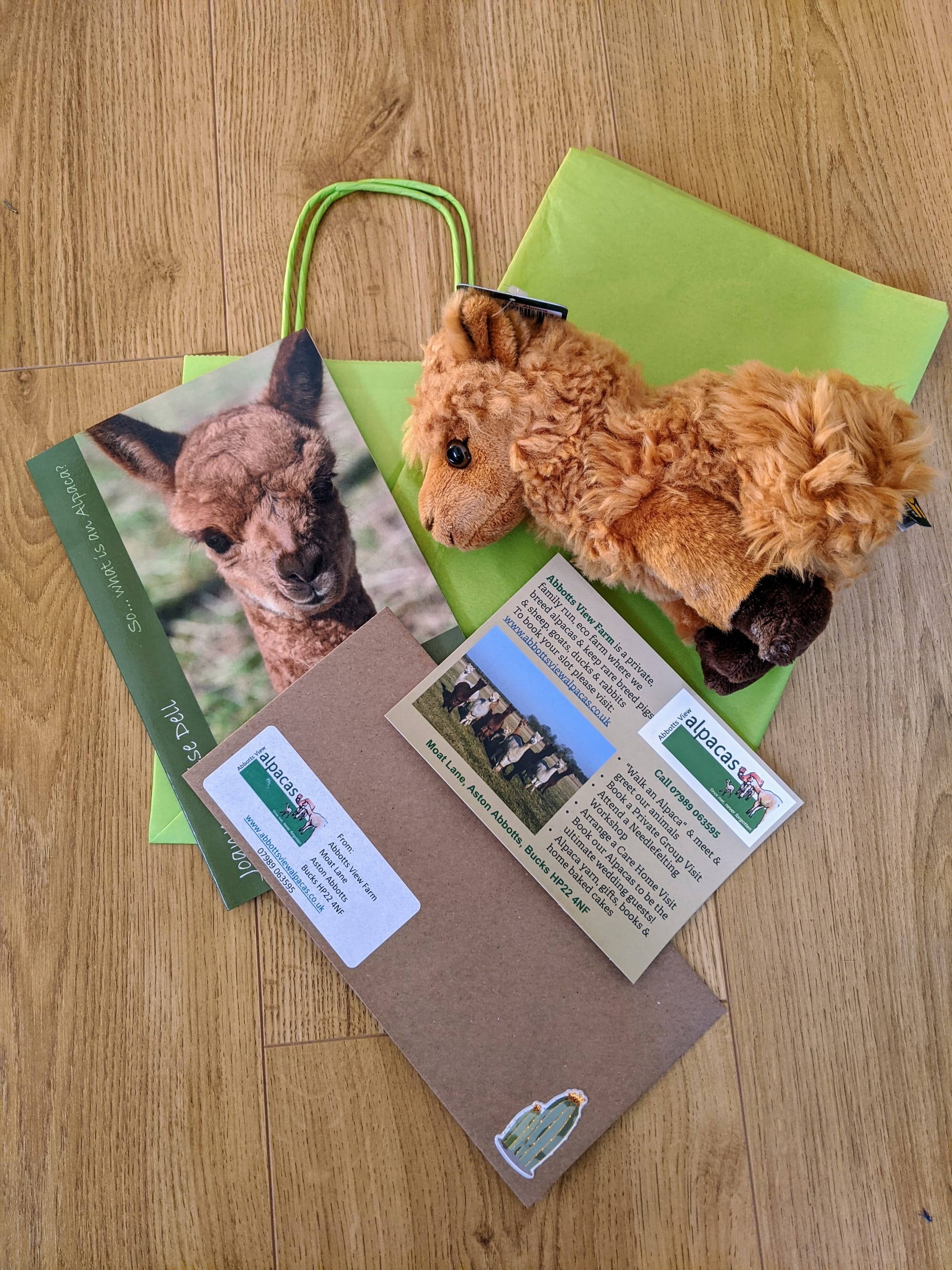 Our popular gift sets can be purchased at booking for an extra £15 (+£4.00 postage) and include a personalised voucher, 15cm cuddly alpaca, gift bag & "So... what IS an alpaca?!" photo fact book
Cost for a Private Alpaca Experience:
£300 for up to 10 people each walking their own alpaca (minimum charge)
Additional guests can be accommodated for £30 per person walking an alpaca (maximum 14) and £15 if accompanying/sharing an alpaca. Large groups may take it in turns to walk an alpaca and the cost will be divided equally between the group (For example, a group of 25 people would pay £23.40 each)
(Prices are inclusive of VAT)
There is no additional charge for children under the age of 10 but they MUST be supervised and walk with an adult.
* Children under the age of 10 can accompany adults on the walk but may not be big enough to walk their own alpaca. The recommended minimum age is 6.
Sorry, no dogs and, due to the private nature of our farm, we can't accommodate spectators