Alpacas are delightful, inquisitive creatures with super soft fleeces and naturally smiling faces. Abbotts View Alpacas are very used to visitors and enjoy the opportunity to meet new people and go for a gentle stroll around our alpaca track. From the minute you enter our gates, you are on alpaca time. We want you to enjoy every second of your visit on our small private farm, and are happy to answer any of your questions - we love to talk alpaca!
What's included?
On arrival, you will be welcomed by a smiling face and ticked off our attendee list - no need to bring any booking confirmations with you. Once everyone has arrived, we will deliver a short Welcome Talk, which includes our Health & Safety procedures. You will be asked to walk over a disinfectant mat so remember to wear sturdy footwear - wellies or walking boots are ideal (no flip flops or sandals please). Trainers will suffice but don't wear your favourite white ones!
Then the exciting part begins! We will walk you through our farm, along a stony path, passing our free range ducks, rabbit and guinea pigs, kune kune pigs, pygmy goats and our female alpacas and will take you to meet our handsome alpaca boys. Another little talk on how to behave around your new fluffy friend and then we'll set off for a gentle stroll around our farm. We will share interesting stories and facts with you about our animals along the way - they all have a story and they all have a personality!
The walk is usually a slow and gentle stroll around our on farm alpaca track (which is a grassy track that's relatively flat), which lies around the edge of our horse livery and will last approximately 45 minutes. There will be plenty of time to take photos and we'll even show you how to take an alpaca selfie!
Once the boys are safely back in their paddock we will take you to meet our female alpacas who will be waiting eagerly to meet you (alpaca feed will be provided). After more alpaca chat, more selfies and even a few cuddles with our gorgeous girls we will head back up the stony path, feeding the ducks on the way if they make an appearance, before a thorough hand wash and shoe change.
Your wonderful visit will be followed by a cuppa and a Danish Pastry/Cookie/Cake in our charming cafe/shop which is included in your ticket price.
Ticket Prices
Choose from the following: - each person attending must have a ticket:
One person walking 1 alpaca (aged 10+) £35
(Children under 16 must be accompanied by a paying adult)
Two people walking 1 alpaca £50
(Suitable for 2 adults or 1 adult and 1 child aged 6+)
Two people walking 2 alpacas (aged 10+) £70
(Children under 16 must be accompanied by a paying adult)
Extra person (6+) £15
(Extra adult or child 6+)
Please note that the minimum age to walk an alpaca is 10, the minimum age to visit is 6 and children under the age of 16 must be supervised by an adult who has purchased a ticket.
Unfortunately, alpaca walks are NOT suitable for wheelchairs, pushchairs, children under the age of 6 (this includes babes in arms) or dogs so please leave your dogs at home - not in your car!. We have tried all of the above and experience has taught us that it doesn't work.
Children aged 6+ may accompany an adult who has purchased a ticket to walk an alpaca but each child must have an "extra person" ticket. Maximum of 2 children per adult.
Older children must be aged 10+ to walk their own alpaca, but children under the age of 16 must also be accompanied by an adult who has purchased a ticket (either to walk an alpaca or as an "extra" ticket. Any child (or adult) walking is expected to behave calmly and sensibly whilst on site.
Additional Info
We walk 14 alpacas at a time so have on average 20 visitors on each slot. We would recommend you allow 2 hrs for your visit. Slots start promptly at 11am or 2pm - your booking reminder will confirm the time you booked. Please aim to arrive 15 minutes before your time slot but not before. We will set off promptly so don't be late!
We have a small gift shop with items made from our own alpacas including knitted/crocheted items, needlefelted animals, knitting kits, alpaca mugs, alpaca toys, as well as Jo's Alpaca Story books, paintings and handpainted jewellery. We are happy to take cash or card payments.
We have toilets with handwashing facilities on site, as well as free parking.
Alpaca Walks run on Saturdays and Sundays at 11am and 2pm from March to October and on some Wednesday mornings at 11am. We do not run alpaca walks every day to allow our animals some days off. Check dates and availability here.
Alpaca walks are extremely popular so please plan to book 6-8 weeks in advance for weekends.
When booking your tickets:
Select which tickets you would like to buy and our calendar will show you which dates have spaces for your ticket selection.
Dates in red are fully booked and dates in green have space available.
Slots will show as full when all Alpaca Walking tickets have been sold. There is no limit on the number of Extra Person tickets available so if your preferred slot is showing as full, try reducing the number of alpaca walking tickets.
ALL CHILDREN UNDER THE AGE OF 16 MUST BE ACCOMPANIED BY A PAYING ADULT
Not suitable for pushchairs/wheelchairs.
All tickets include a farm tour a cookie/danish pastry and a cuppa.
If buying as a gift, Gift Sets can be added to your order for £15 + postage.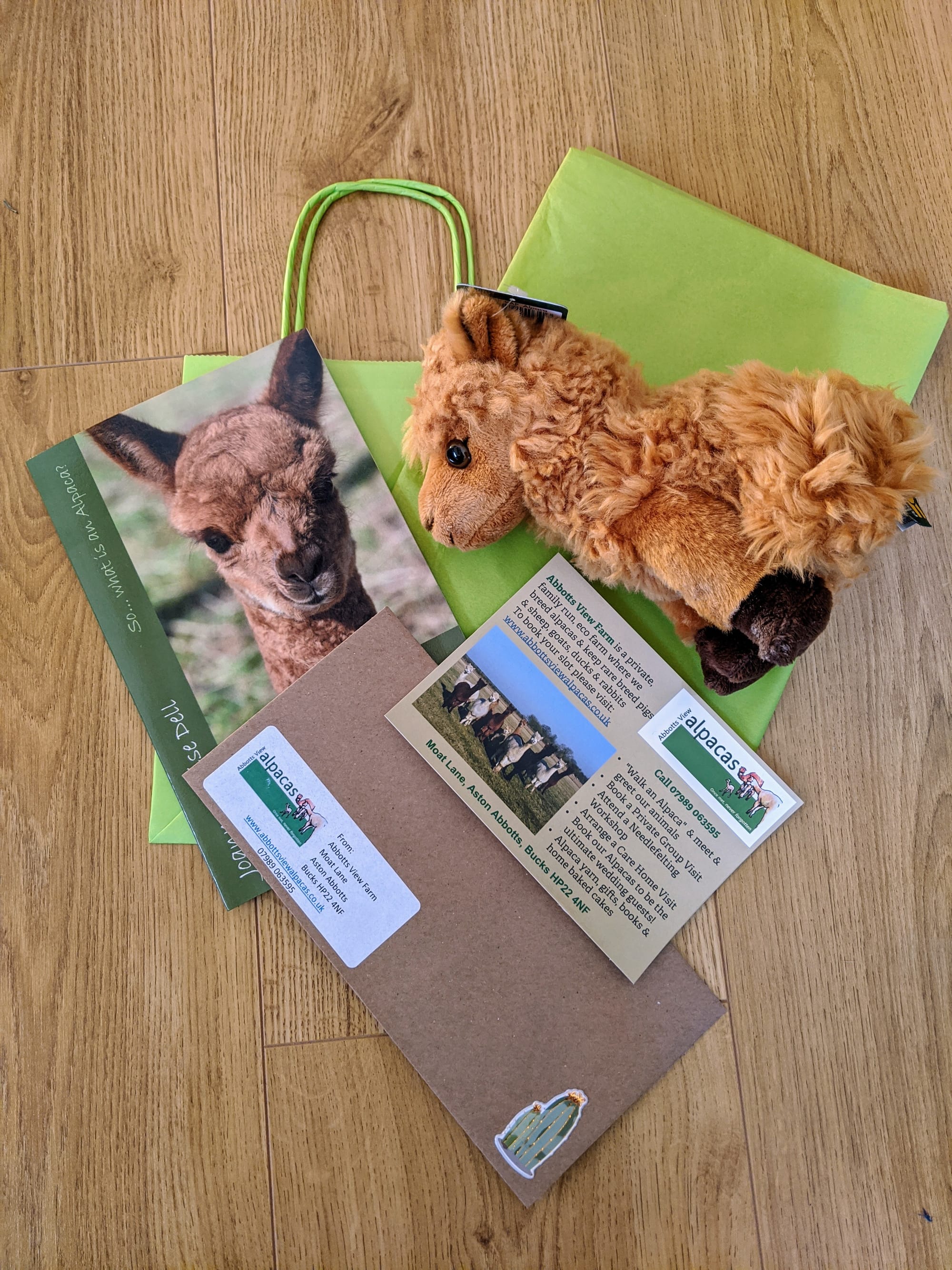 These include a personalised voucher, cuddly alpaca toy , "So... what IS an alpaca?!" photo fact book & gift bag .






If you have a Gift Voucher please click here to redeem your voucher as you are unable to do so via the booking button above.