Join us for a walk around our private farm with some of our wonderful alpacas. This is an extremely popular activity that runs on weekend days from March to October. However walks are not available every weekend (this is subject to staff availability) and do get booked up way in advance. Please plan to book 4-6 weeks ahead.
After a short introductory welcome and health and safety talk we will take you to meet our lovely alpaca boys and take them for a gentle stroll around our farm. We will share interesting stories and facts with you about our animals along the way - they all have a story and they all have a personality! The walk is usually a slow and gentle stroll around our on farm alpaca track and will last approximately 45 minutes. Your visit will include a meet and greet session with our female alpacas with any cria (babies) (alpaca feed will be provided). Homemade cakes and refreshments are included before or after your walk, depending on the time of day. We walk 14 alpacas at a time so have on average 20 visitors (including sharers/accompanying tickets) on each slot. Please allow 2 hrs for your visit.
We have a small gift shop with items made from our own alpacas including knitted items, needlefelted animals, knitting kits, alpaca mugs, alpaca toys, as well as Jo's Alpaca Story books, paintings and handpainted jewellery. We take cash or card payments.
If you have a Gift Voucher please click here to redeem your voucher as you are unable to do so via the Book/Check Availability button below.
Walks run on some Saturdays and Sundays at 11am and 2pm from March to October, between clock changes. We may add extra slots in the run up to Christmas and, if available, these will be shown on our availability calendar.
When booking, please choose from the following tickets, but bear in mind that each booking MUST include a Walk an Alpaca ticket: For examples of group/family ticket combinations please click here
Walk an Alpaca - £30 per person (aged 10+)
One person walking one alpaca
(Under 16's must be accompanied by an adult who has purchased a sharer/accompanying OR walking ticket)
Sharer/Accompanying - £15 per person (aged 6+)
To share/accompany someone in your group who is walking an alpaca (and has bought a Walk an Alpaca ticket). Sharer tickets cannot be bought without also buying a Walk an Alpaca ticket (or your group will have no alpacas!)
FOR: Children aged 6-9 = too young to walk their own alpaca. They can then"share" their adult's alpaca (but adult must have bought a Walk an Alpaca ticket)
OR for adults accompanying children under 6 who are too young to share an alpaca and require adult supervision (however we don't recommend visits for children under the age of 6 as they are too young to really enjoy the experience)
OR to accompany a child aged 10-15 who is walking their own alpaca as children under 16 must be accompanied by a paying adult
OR for anyone who wants to come along to watch/take pictures.
Sharer tickets can ONLY be purchased in addition to Walk an Alpaca tickets or there will be no alpaca to "share"
Child - £5 (aged 2-5yrs)
For children under the age of 6 and of walking age (no charge for babes in arms). Each child must be accompanied by an adult who is NOT walking an alpaca (and has purchased a Sharer ticket). We don't recommend visits for children under the age of 6.
Select which tickets you would like to buy and our calendar will show you which dates have spaces for your ticket selection.
Dates in red are fully booked and dates in green have space available.
Slots will show as full when all Alpaca Walking tickets have been sold. There is no limit on the number of sharer/accompanying tickets available so if your preferred slot is showing as full, try reducing the number of walking tickets. You can buy any number of

sharer tickets

so long as you have purchased at least 1

walking ticket

ALL CHILDREN UNDER THE AGE OF 16 MUST BE ACCOMPANIED BY A PAYING ADULT
Not suitable for pushchairs/wheelchairs. There is no charge for babes in arms but small children under the age of 6 must be adequately supervised by an adult who has purchased a

Sharer ticket

(An adult cannot supervise a child under the age of 6 if they are walking an alpaca). However, WE DON'T RECOMMEND VISITS FOR CHILDREN UNDER THE AGE OF 6
All tickets include a farm tour and home made cakes/refreshments
If buying as a gift, Gift Sets can be added to your order for £15 + postage.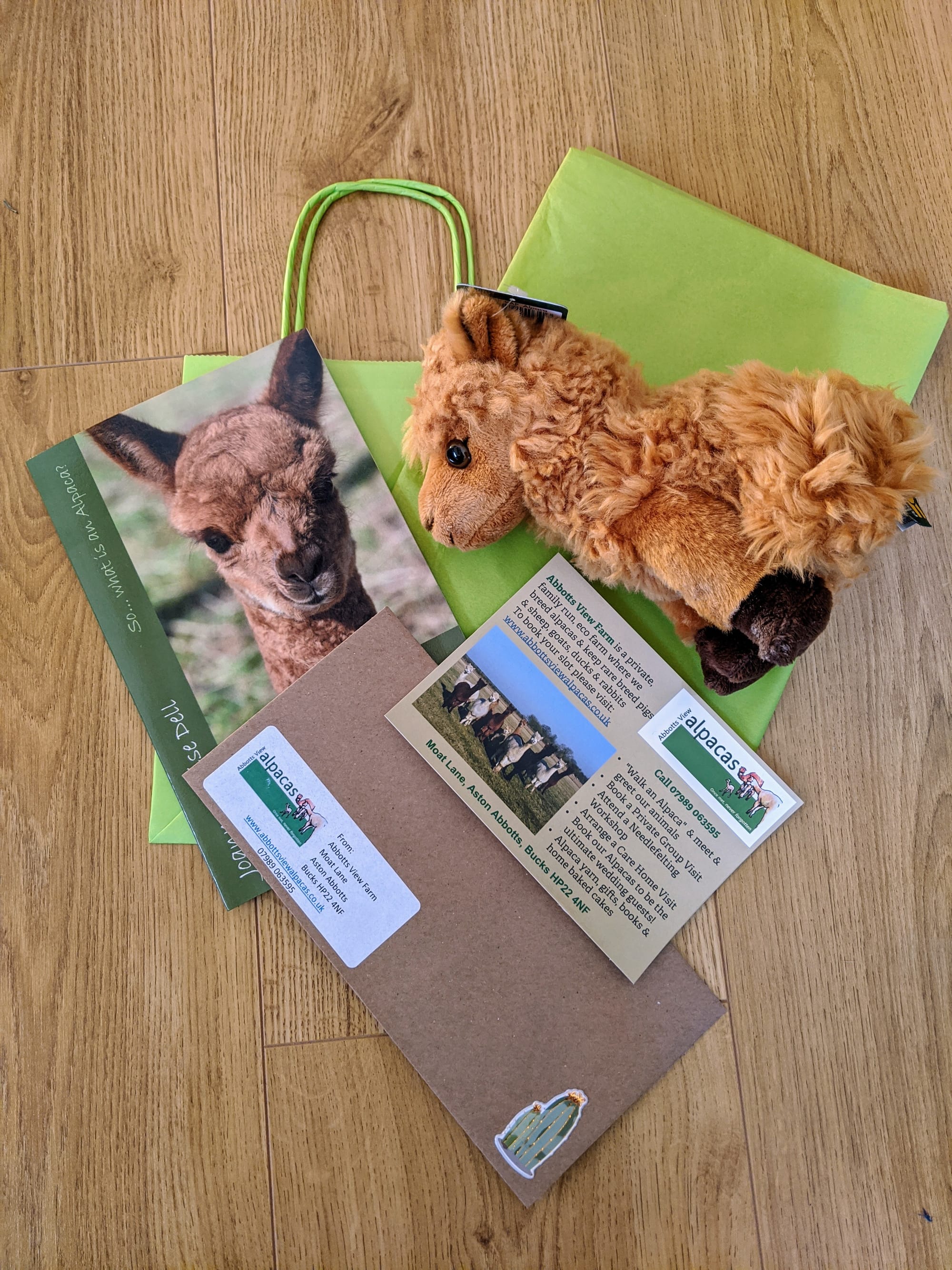 These include a personalised voucher, cuddly alpaca toy , "So... what IS an alpaca?!" photo fact book & gift bag .